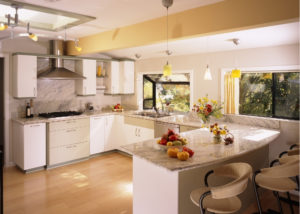 Sugar Land, Missouri City, Richmond, Rosenberg, and Stafford are all served by this location.
At Level Pro Home Service, we have everything you need to ensure the success of your kitchen remodeling, bathroom remodeling, or flooring project. Consider transforming your kitchen into a new entertainment hub for family and friends. Consider transforming your master bathroom into a luxurious spa retreat. Add beauty, warmth, and comfort to your home with new carpet and wood flooring!
We can design your project with you in our Selection Center and assist you in making beautiful selections after you choose us as your contractor. Our custom cabinet displays from Mid-Continent Cabinetry and Fieldstone Cabinetry feature a diverse range of styles and finishes, both traditional and contemporary. Our countertop and tile displays enable us to assist you in the selection process by coordinating styles, sizes, and colors.
We manage your project effectively. When questions or problems do arise, we are adept at responding to them and resolving them. Our objective is the same as yours: we want you to fall in love with your newly remodeled home and be glad you chose us!
The New Living Room is in the Kitchen! Allow us to assist you in transforming your kitchen into a more comfortable work environment and a pleasant gathering space for family and friends.
Beautiful cabinetry with a variety of door styles, rich stain or paint colors, and increased storage. Countertops and backsplashes that make a statement in terms of design. The anchor and flow of the entire project are provided by the floor tile. The painting that ties everything together.
Looking for best quality granite countertops? Check Us Out At:
Level Pro Home Services, Inc.
920 Murphy Road, Suite C,
Stafford, TX 77477
Tel: (281) 397-2299